I
t's taken me a while but I'm finally posting pictures of my half marathon I ran on 3/5/11. I didn't forget - I've just been busy, but mostly our laptop is broken again. Boo! So I am posting from Andrew's work laptop.
So here is my cousin, Elizabeth, and me before the race.
(Sorry - a little fuzzy.)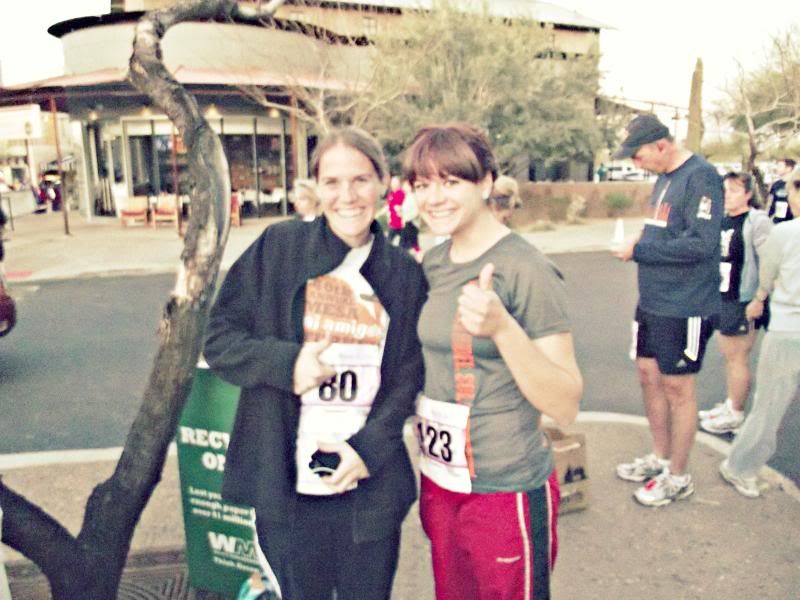 I look so nerdy when I run like in this picture.
This is us literally a few steps into the race.
That's probably why we look so good.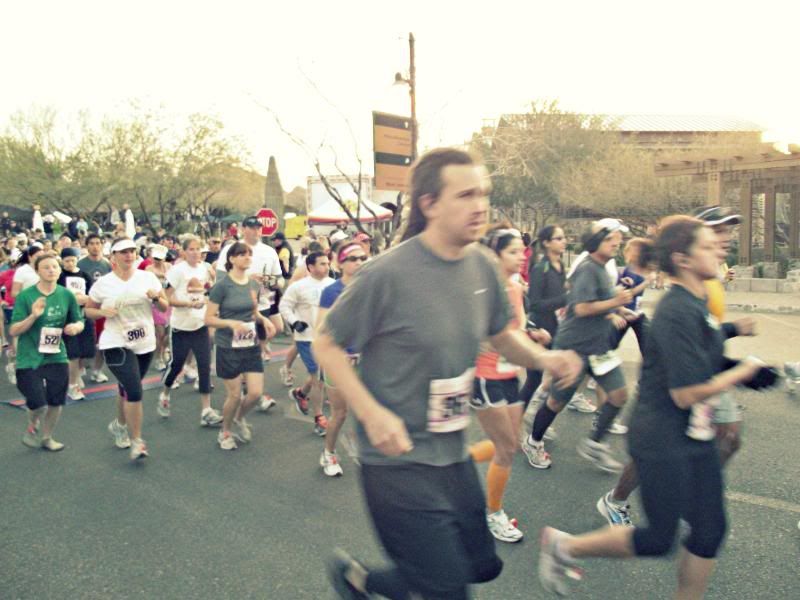 After the race Andrew showed me this picture. The race had a different computer moniter set up for each of the events where you can look someone up and it would tell you their time. My name was up for a long time. They must have punched in my running #123 as a test. Pretty cool.
So here's me at the finish.
What's that? You can't see me?
Andrew did the best he could with two wiggly kids
and no idea when I would finish.
I actually passed those two girls in front of me before the finish line.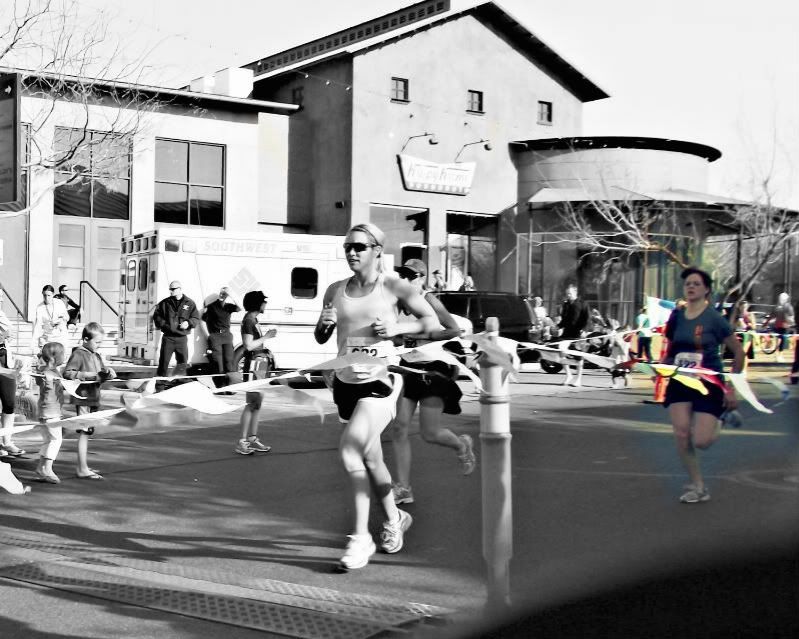 This picture captures something of an emotional moment for me. You see, I ran the first 8 miles with Liz and it was fast and there were a lot of difficult hills. After that I fell back because honestly, Liz is much faster than me. Since the first half was so fast I had a very difficult time on the second half. I felt like I already spent the best of me so I had to pull all this energy out of nowhere. That's when long-distance running is a mind game. You know how they say running is 90% mental and 10% fitness. I don't know how accurate that is but there's truth in it. It was hard! The rest of the race was very hard. Fortunately I had enough energy to sprint really fast at the end - which is my favorite part of a race. It feels so good to finish a race strong. I felt great - until I stopped. Then my body went into a little shock. I was trying to catch my breath and I just wanted to cry. It wasn't an emotional thing, it was physical. I felt so alone in the world at that time even though there were people all around me. I just wanted to be with my husband and hear him tell me how proud he was of me and how great I did. As soon as I saw him I let myself cry a little. I was so physically overwhelmed. He told me I did great and just hugged me and I felt much better. I might have only run 13.1 miles but to me it was a huge physical and mental accomplishment. This will be a race I will never forget. In this picture my eyes are still a little wet from crying.
The times are posted here.
( Next time I want to run it in under 2 hours.)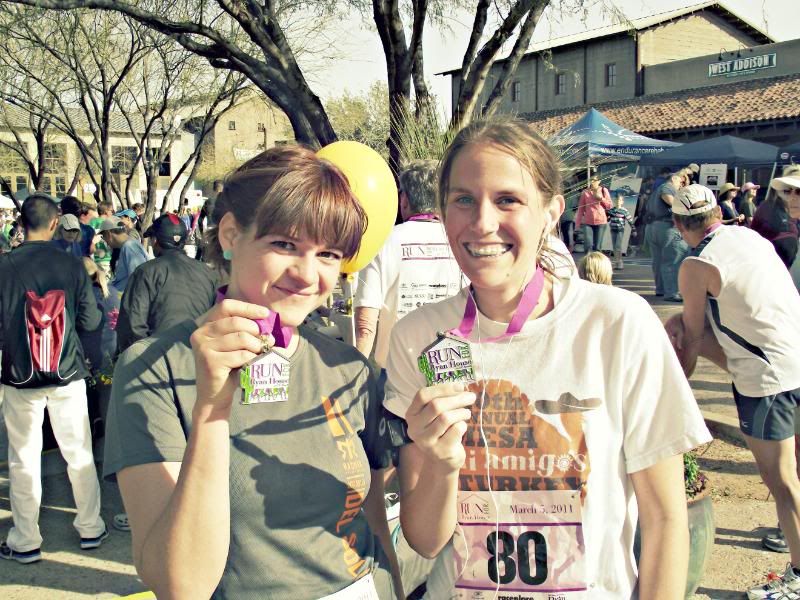 Here is the most supportive husband in the world!
He wants to make it a new tradition to do this picture after all of my races. He's telling me I'm #1. We did this here too.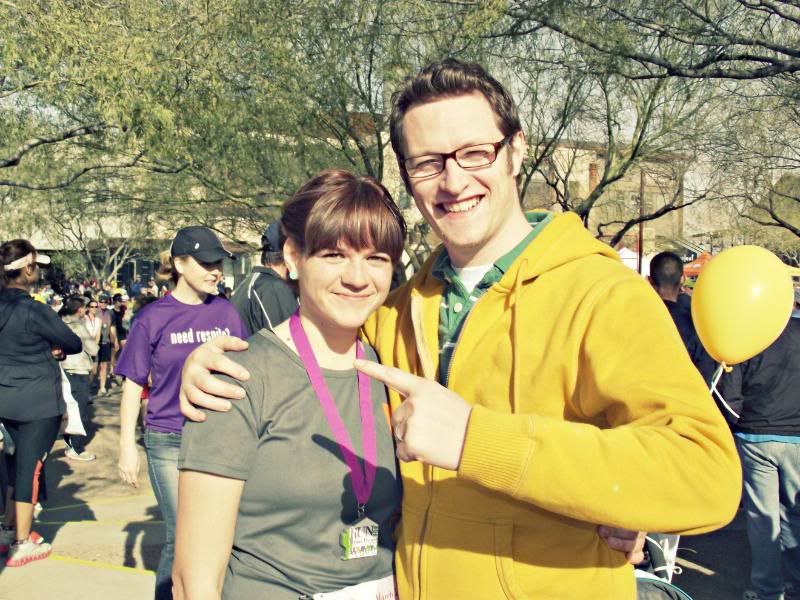 The funny thing is this race was kind of a big deal for me
but the rest of the day was just normal.
p.s. Up to this point, this half marathon is the longest I've ever run . . . but not for forever :)